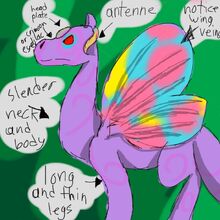 BUTTERFLYWINGS ARE PROPERTY OF TURKISHANGORAKAT AND WILL NOT BE EDITED OR USED WITHOUT PERMISSION! DO SO AND TURKISH WILL STAB YOU WITH KATCLEAVER!
Butterflywings are a fanon tribe created by TurkishAngoraKat, and I do not own Wings of Fire.
Description: They are tall and slender with thin legs. They usually have crimson or lilac eyes. Their scales are usually bright with patterns like spirals, swirls, and dots. They have big, leathery wings; often shaped like ovals but the royal family often has different shapes, so do animus dragons. They have antennae like things curling around their ears. oval shaped bulbs (called the head plate)on their forehead, right above the nose bridge; Prehensile tails.bbbbbbbbbbbbbbbbbbbbbbbbbbbbbbbbbbbbbbbbbbbbbbbbbbbbbbbbbbbbbbbbbbbbbbbbbbbbbbbbbbbbbbbbbbbbbbbbbbbbbbbbbbbbbbbbbbbbbbbbbbbbttttttttttttttttttttttttttttttttttttttttttttttttttttttttttttttttttttttttttttttttttttttttttttttwwwwwwwwwwwwwwwwwwwwwwwwwwwwwwwwwwwwwwwwwwwwwwwwwwwwwwwwwwwwwwwwwwwwwuuuuuuuuuuuuuuuuuuuuuuuuuuuuuuuuuuuuuuuuuuuuuuuuuuuuuuuuuuuuuuuuuuuuuuuuuuuuuuuuuuuuuuuuuuuuuuuuuuuuuuuuuuuuuuuuuuuuuuuuuuuuuuuuuuuuuuuuuuuuuuuuuuuuuuuuuuuuuuuuu fffffffffffffffffffffffffffffffffffffffffffffffffffuuuuuuuuuuuuuuuuuuuuuuuuuuuuuuuuuuuuuuuuuuuuuuuuuuccccccccccccccccccccccccccccccccccccccccccckkkkkkkkkkkkkkkkkkkkkkkkkkkkk
Abilities: See in the dark; climb easily; excellent fliers; can drink nectar without getting sick (In fact, it is a source of nutrients); can sense aura with head plate; can make very low infasonic sounds below 5,000 hertz; hear the low infasounds with antennae; Good dancers
Names
ButterflyWings usually are named after flowers, the natural world, bugs, appearance, and personality traits.
Examples
Liar
Cattail
Hornet
etc.
Queen
The queen of the ButterflyWings is a tall lilac ButterflyWing with bight crimson eyes; almost like blood. Her name is Twilight.