THIS TRIBE BELONGS TO CATTYDRAGON9, AND HER ONLY SO DO NOT EDIT THIS PAGE UNLESS YOU HAVE PERMISSION FROM CATTYDRAGON9, AND HER ONLY!!!
Aura wings:
Appearance:Aura wings have feathers along their back, tail, an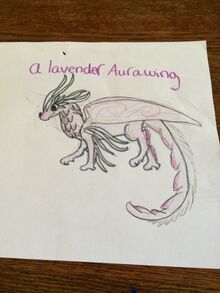 d above their eye which are always white, but they are very thin and almost transparent.Aura wings have long, twisted horns, large scales on their tail and neck, and long feelers that look like streamers on their legs, all of these body parts will change colour at the dragon's will.
Aura wings are born with either lavender, light blue, or magenta scales and white horns,feelers, and feathers.
Physical abilities:
Running and flying:Aura wings are excellent and very fast at running and flying through dense forests such as the rainforest, but not as great in open sky or open areas.
Fighting:Aura wings are not very strong, but they are very fast and agile.
Powers:
Energy:Aura wings have a burning energy inside of them that they can shoot through their mouths, but young dragonets sometimes breath it out on accident.The energy is as hot as fire and can burn things, including dragons.
Mist:Aura wings can breath a mist that can make a dragon go mad.Aura wings have mind shields to defend themselves from mist that young dragonets sometimes breath out.
Feathers:This may not be a power but it is very useful! Some Aura wings might get a little, hmmm...goofy and sometimes they like to, uh... tickle their opponents with their feathers.
Scales:Aura wings can change their scale color just like Rainwings, but instead of their scale color changing depending on the Aura wing's emotions Aura wing scales change depending on other dragon's emotions.They can also change their scale color at their at their own will.
Habitat:Rainforest, on an island not far from the Icewings,Nightwings,Skywings,Seawings,Mudwings,Sandwings and rainwings.
Important members:
Queen:Queen Astonishing
Heirs:Radiant and Divine
Prince:Prince Sorrow
Soldier captain:Horror(Terror's sister, a female)
Guard captain:Terror(Horror's sister, a female.)
Assassins:Fury, Rage,Ire
Names:
Wonder
Joy
Rage
Horror
Terror
Jubilant
Suprise
Delight
Melancholy
Sorrow
Pride
Bitter
Ire
Despair
Cheerful
Ecstatic
Fury
Amazment
Awe
Leap
Frisk
Skip
Serenity
Desput
Admiration
Affection